"Where The Sun Does Shine"
It is important to maintain the cleanliness of your windows, not only for aethetics but to help preserve the condition of the glass over time as well. Here in New England, windows are especially vulnerable to harsh conditions, due to the abrupt weather changes and the Ocean effects in the atmosphere. Not to mention the harmful acids that insects, birds and foliage leave behind. On the inside windows, the glass attracts dust particles and other matter exposed into the air. Over time windows can develop films or stains, which if not treated may cause the window to develop long term effects. Having your windows cleaned properly and regularly will help prevent such things from occuring. Plus, you will be amazed at how clean your windows look!
Pane in the Glass provides a comprehensive window cleaning for your home or your business. We have the expertise and equipment to safely and efficiently clean all windows at any capacity. The two of us will always be present at every job, making sure things are done right and that your experience is an absolute pleasure!
Windows, Doors, Etc.
*Interior & Exterior*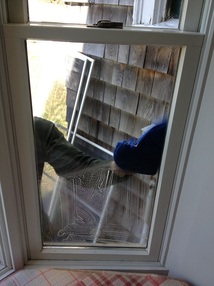 We clean and buff all windows by hand using organic solutions and non abrasive recycled towels. We can remove paint and stickers as well as salt water stains and other hard water deposits.

multi-story windows, skylights, rooftops, ladder work, individual panes, removable panes, grids/muntins, storms, double hung, casement, tilt windows, fixed, transoms, picture/bay/garden windows, louveres, stained/frosted glass, glass blocks, tinted windows, solar panels (
PV or photovoltaics
) french doors, storm doors, sliders, storm patios/porches, attics, basements, garages, sheds, barns, mirrors, fixtures, glasstops, fireplace & shower doors, cars, trucks, rv, boats, etc...
---
Screens & Sills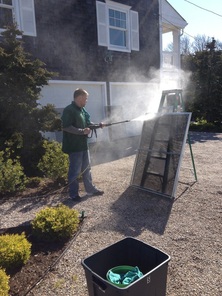 We will wash and dry your screens. This includes screened-in porches and the interchanging of screens/storms. We can also label and store your screens during the inclimate months, in order to maintain the longevity of the screens and to prevent additional corrosion to the windows.

Screen repair is also available, this includes the mesh and/or frame.

*All window sills are cleaned complimentary as part of our service
---